Hi everyone! Today I'm going to talk about the books I read in March, which were mostly the books in the Kate Daniels series by Ilona Andrews. I literally did nothing else with my free time the last two weeks but read these books and it was such a fun experince.
Without further ado, let's talk about the books
These Violent Delights by Chloe Gong (4 stars): Roma and Juliette felt so real and I really enjoyed their complicated, angsty relationship. Also, the side characters were pretty interesting and there was a sort of romance between some side characters that gave me life. Also, the way this book explore political struggles and colonialism was fantastic (full review)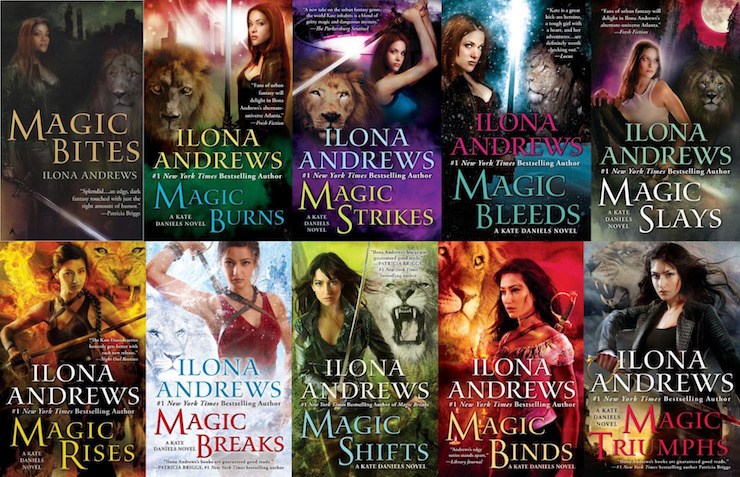 The Kate Daniels Series by Ilona Andrews (4 stars): I read the 10 books and 3 novellas in a period of 2 weeks and absolutely loved it, I gave all the books 4 or 4,5 stars except for the last one that got a 3,5 but was still a good book. The series has an amazing main character, who is strong, smart and compassioante but also very flawed, and it also has so many lovable side characters, I was so invested in all of their stories. The main relationship was a slow burn, dislike to love romance and it was so good. Also, the world and magic system were so intricate and interesting, this series included mythologies from all over the world and it was really fast paced, easy to read, full of action. Reading these books was such a fun experince. My main issue with this series is that the writing got a bit repetitive because they recounted who all the organizations and charcters were and what happened with them in previous book over and over again throughout the series.
Act Your Age, Eve Brown by Talia Hibbert ( 4 stars): I loved reading about Eve and seeing her grow throughout the book. The tension between Eve and Jacob gave me life, their chemistry was so evident and their bickering, especially at the beginning, was so entertaining. The way they both accepted and made space for the needs of the other person was incredibly sweet. Also, this book has some really steamy scenes.
Accidentally Engaged by Farah Heron (4 stars): I enjoyed seeing the main character work to improve different aspects of her life. Also, the romance was really sweet, I liked seeing Reena and Nadim become friends and then seeing that friendship evolve into something more. Also, Nadim was really sweet and considerate. (Full review)
First Comes Like by Alisha Rai (3,7 stars): I like the two main characters and the exploration of complicated family dynamics. I also really appreciated having more traditional Muslim heroine in a romance novel. My main issue with this book is that the chemistry and tension between the characters weren't there. (Full review)
Anchored Hearts by Priscilla Oliveras (3,5 stars): A full review is coming closer to the release date. But for now, I really liked this slow burn, second chance romance. The tension and chemistry between the characters was great. My issues with this had to do with the writing and the fact that I found the hero a bit frustrating.
Marriage and Murder by Penny Reid (3,5 stars): My enjoyment of this series comes in a big part from nostalgia. The characterization of Cletus is very good, even if he can be irratating at times, he has a very strong personality, but Jenn got a bit lost in the background, even when she had some important realizations in this book. The strength of this book is definitely Cletus and Jenn together.
Tarot magicomístico de estrellas (POP) by Amelia Andrade (4 stars): this is an introduction to the tarot but the illustrations in the tarot cards are famous people who embody the essence of the card. It's done by a Colombian author and illustrator and it's really cool, so if you speak Spanish and you are interested in the tarot, I would recommend this.
What is your favorite and least favorite book you read in March? What book are you looking forward to reading in April?